Chiropractic Care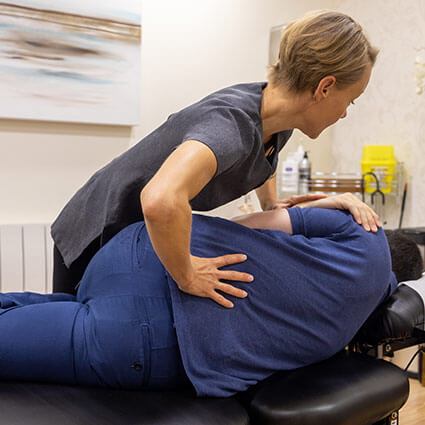 Chiropractic is a primary healthcare profession, using a holistic and integrative approach to assess a patient's health needs. This means not only focusing on the symptoms of a condition, but also the physical health, lifestyle and emotional wellbeing of a patient.
Chiropractors do not prescribe drugs or surgery but use gentle manual techniques to help your body recover from acute and/or chronic problems.
What to Expect
One of our chiropractic team will talk to you about all areas of concern and your condition. Your visit also includes a thorough history and a comprehensive physical examination. Once we know what the problem is, we will decide on a care plan best suited for you.
Initial (Symptomatic Care): Our initial goal during care is to alleviate pain, stiffness and/or tension that you may be experiencing, and to find solutions to fix the original cause of the problem, whether this relates to lifestyle or an injury.
Secondary (Rehabilitative Care): Once your condition has stabilized and become less symptomatic, our objective is to strengthen the area, getting things rehabilitated to reduce the chance of relapse/recurrence in the future.
Maintenance (Lifestyle Care): When you are feeling much better and your presenting problem is more stable and stronger, many patients choose to progress onto continued care on a maintenance basis. If your lifestyle suggests that that is needed, there will be opportunities to discussion this option later during your care plan, when we're doing our reassessments.
Putting Nervous Patients at Ease
We understand that some new patients may feel anxious or apprehensive, especially if they haven't seen a chiropractor before. As such, your chiropractor will talk you through exactly what's going to happen during your consultation and your treatments and encourage you to let them know straight away if there's anything you don't feel comfortable with.
Techniques Used
Our chiropractors primarily use a technique called Diversified Technique. However, we also offer Thompson Drop & Activator Methods to gently adjust and/or mobilize joint/s which aren't moving/functioning properly. Although chiropractic adjustments are the core of a patient's treatment our chiropractic team also offer adjunctive soft tissue techniques such as Medical Acupuncture, Kinesio Taping, Trigger Point Therapy, Percussion Massage etc.
Adjunctive Services
In addition to chiropractic, we are pleased to offer a broad array of health-enhancing services to meet the varied needs of our clients. These services include:
Corporate Wellness
Protect your company's most precious asset (their employees) with
customised wellness solutions
that can help maximise productivity, reduce healthcare costs, improve staff wellbeing and retention, reduce stress, sickness  & absence from work, and much more.
Do you suffer from muscular or myofascial pain dysfunction?
Medical acupuncture
, which uses tiny, ultrathin needles can be used to melt away muscle spasms (trigger points) in an affected muscle. When trigger points are dissolved, the flexibility and function of a muscle is greatly improved, and general range of motion increased.
Experiencing insomnia, anxiety, digestive issues, or other conditions caused by stress?
Reflexology
, which manipulates reflex points in the feet and/or hands, can address these and other issues.
Float Spa (REST Hydrotherapy)
Immerse yourself in an Oasis of Calm. Decompress and dial back the stress in your life with a deeply physical & mental relaxing session in our Floatation/REST pod. Our
Float Spa
enables users to float effortlessly on the surface of warm water, and us designed to strip away all the senses (sight, sound, touch, etc.) 1 hour in this sensory-controlled environment equates to 3-4 hours of deep sleep!
If you suffer from low mood, depression, anxiety, stress or something else that's affecting your mental health, consider scheduling an appointment with our
clinical psychologist
.
Wellness Studio (Yoga, Pilates, Movement Therapy)
If you're seeking to stretch your core, improve your movement, recover from an injury or have another health goal in mind, you can enjoy classes in our beautifully designed
wellness studio
! 1:1 instruction is available and Group Classes are deliberately kept small (max 8 students) to enhance your enjoyment & learning.
Massage Therapy
Massage therapy
is a timeless way to relieve physical/mental stress, and manage tight & painful muscles/injuries. We have a wide range of treatments i.e. (Aromatherapy, Deep Tissue, Hot Stone, Indian Head, Pregnancy, etc.) to suit every client's budget and health goals.
Have you recently experienced an illness, recovering from injury or surgery, or have limited movement?
Physiotherapists
are trained to restore physical function utilising stretches, exercises and other modalities.

Chiropractic Care | 01534 633060