Meet the Wellness Centre Team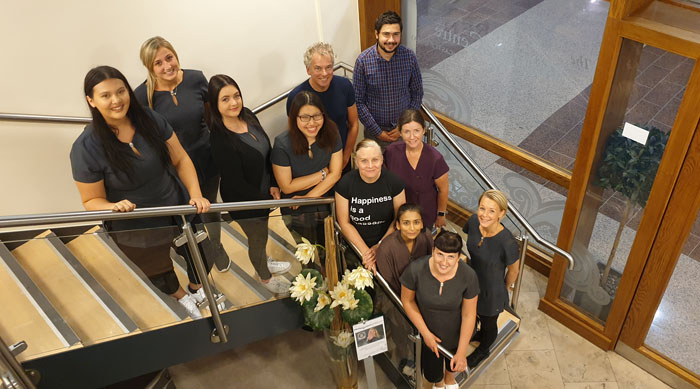 Adrian C. Luckhurst D.C. – Director/Doctor of Chiropractic
Adrian was born in England (1973), however grew up in beautiful Victoria B.C. in Canada. Adrian attended 'St. Michael's University School' (SMUS) which prepared him for further education at the 'University of Victoria' (UVIC). After completing a 2 year per-requisite program at the 'University of Victoria' Adrian was accepted into the 'Anglo-European College Of Chiropractic' (AECC) in Bournemouth, England. Adrian achieved his BSc. (Hons) Human Sciences degree in 1998 and his MSc. (Chiro) degree in 1999. Shortly thereafter he was presented with the opportunity to come to Jersey and assume the role as Principal of the 'Jersey Chiropractic Centre'.
After 15 years of developing & modernising the centre Adrian decided to take some much needed time out. After his sabbatical Adrian returned to design and develop 'The Wellness Centre (Castle Quay)', and assumed the role as Managing Director, and as one of the most senior Chiropractors working at the centre.
---
Andrea F. Luckhurst D.C. – Director/Doctor of Chiropractic
Andrea was born in Sweden (1976). After having completed a degree in Economy in Sweden, Andrea spent some time in Spain where she worked within the family restaurant business. It was during this time that she decided to focus her future career within the healthcare industry.
After being inspired by her local practitioner Andrea decided to attend the 'Anglo-European College of Chiropractic (AECC)'. In 2001 Andrea achieved her MSc. (Chiro) degree and shortly thereafter moved to Jersey to become a partner of the Jersey Chiropractic Centre. Andrea has since further qualified in 'Applied Kinesiology (AK)', and taken several specialized courses in pediatrics and 'Buteyko' (a recognized breathing technique for asthma, and other respiratory problems).
---
Receptionist & Float Spa Attendants
---
Hadley-James Brown D.C. – Doctor of Chiropractic
Hadley was born in New Jersey (USA) and grew up in Spain before moving to the UK. He completed his Masters of Chiropractic graduating with a distinction.
Having a passion for playing sport he has seen first-hand the benefits of chiropractic care in relieving symptoms but also maintaining optimum function. In 2016 he was appointed as the on-pitch healthcare professional for a Welsh rugby union side. This placement entailed working alongside a professional healthcare team and having to complete a myriad of courses to acquire the skills to deal with acute sports trauma.
Having most recently practised in the South east of England and London, Hadley has become acquired to dealing with musculoskeletal complaints that arise in a corporate setting.
In his spare time, he enjoys playing football and watching live sports.
---
Beniamin Kasprzyk MSc, MCSP – Chartered Physiotherapist
Beniamin was born (1976) and raised in Poland. He completed a 3-year Physiotherapy course at the Medical Vocational College of Busko-Zdroj and graduated as a Physiotherapy Technician in 1998. In 2007 Beniamin went on to study Physiotherapy at Medical University of Lodz, later completing the 5-year course and obtaining his MSc degree in Physiotherapy. Being a keen learner, Beniamin has completed several additional, adjunctive Physiotherapy courses (Movement Solution I – Kinetic Control and 4 modules of basic and advanced Full Body Manual Therapy). He is registered with The Health and Care Professions Council and he is a qualified member of The Chartered Society of Physiotherapy.
Beniamin loves to work with people and aimes to provide an excellent patient service by educating his patients in their condition, diagnosis, treatment plan and self-management techniques. Being part of his patients' recovery, and helping them to live a pain free life so that they can focus on achieving their goals without worrying about health issues, gives him great sense of achievement and pleasure. Sport and physical fitness have always been his big passions including sports such as tennis, snowboarding, surfing, and recently triathlon.
---
Dr. Nicola Brandaro – Clinical Psychologist
Nicola was born in England and grew up in Oxfordshire. After completing her undergraduate degree in Psychology (BSc) at the University of Portsmouth where she achieved a First Class degree with honours, she moved to Jersey for 2 years where she worked as an Assistant Psychologist. Nicola later gained a place on the University of Birmingham Doctorate in Clinical Psychology 3 year programme.
Nicola moved to Jersey permanently in 2015 and worked as a qualified Clinical Psychologist within the States of Jersey for 4 years. She has a number of publications and has completed several additional courses, most recently having achieved her certificate to practice Eye Movement Desensitisation Reprocessing (EMDR).
To find out more about Dr Brandaro and her services, please visit her website by clicking here http://www.brandaro.co.uk/
---
Lauren McEwan – Sports Therapist
Lauren McEwan was born and raised in Jersey. After completing her G.C.S.E's and A Levels at Hautlier, she then went on to study Sports Therapy at the University of Chichester, completing the 3 year course and obtaining her BSc. (Hons) degree in 2006. Whilst at University Lauren gained further hands on experience in her field. She was part of the Sports Therapy drop-in clinic at the university, which was open to all students and staff. Lauren also took the post of Sports Therapist for her University football team, attending both training sessions and matches with them. Since returning to Jersey, Lauren has been based at the 'Jersey Chiropractic Centre' since early 2007, during which time she has built a strong client base.
As a student Lauren had a long history as an Island gymnast. As such she has great first hand knowledge and experience of sports related injuries. In addition to Remedial Massage, Sports Massage, and Rehabilitative Training Lauren now also offer a range of wellness based treatments to complement our clinic and the many therapies that we offer.
---
Ciara Ahern – Sports Therapist
Ciara has more than 10 years experience in Remedial Sports Massage after graduating with a first class honours diploma in Advanced Sports and Remedial Message from St Martin's College, Cork. As well as treating clients, Ciara shares her depth of knowledge by teaching a Level 3 Certificate Course in "Sports Massage Therapy" at the Professional Fitness Academy (previously at Highlands College). Ciara is also qualified in the use of ultra-sound.
Being involved in athletics for many years and working with the Jersey 1sts rugby team into the Championship, Ciara has extensive practical knowledge and experience in dealing with sports injuries. Ciara has also worked with clients from the finance sector (having worked in that area for over a decade) and is focused on ensuring that each client's care program is matched to each individual's needs.
Ciara's ethos is to treat everyone and their injuries as individuals and to ensure that 'one size fits all' is NOT part of the treatment process.
To find out more and to make an appointment with Ciara, please click Here
---
Eva Akhonya – Massage Therapist
Eva was born in Poland where she studied at the 1st Medical Vocational Post-Secondary School in Szczecin, and graduated in 2005 as Physiotherapist. After moving to Jersey in 2008, Eva gained further qualifications in different body treatments at the Highlands College and many years of experience at several spas on the island. As a teenager, Eva started training as a triathlete and after many years of hard work she reached her goal and became a winner of both gold and silver medals in the Championship of Poland on two different Triathlon distances. Eva has found that her training and personal experience has given her a deeper understanding about sport injuries and how specific treatments can help to speed up recovery and maximising ones performance. Her biggest enjoyment as a massage therapist is dealing with specific and sometimes difficult injuries that require her to adjust her treatments accordingly. The reward is seeing the results afterwards. Knowing that massage is only one component to better health, Eva would like to complete her training to become a fully qualified Physiotherapist in Jersey.
---
April Marques – Sports Massage Therapist
April originates from Thailand, where she completed an MBA in Hotel & Tourism. April had also completed a Post Graduate Diploma in International Hotel & Events Management whilst living in Switzerland. Through the world of hospitality, she developed a keen interest in Massage Therapy, and after moving to Jersey in 2015 she graduated as a Swedish Massage Therapist Level 3 at Highlands College. During her training April worked for one of the Island's best Spas, where she gained great experience in Deep Tissue, Hot stone and Facial Massage. Additionally, April has also gained a Diploma in Sports Massage Therapy.
April's motivation stems from being able to help her clients by relieving their stress and tension, and to ensure that the customers needs are always taken as a priority.
---
Megan Hennequin – Massage Therapist
Megan was born and raised in Jersey and attended Le Rocquier School where she completed her GCSEs. Megan continued her studies in Beauty Therapy Level 2 and 3 at Highlands College, completing a 2-year course in 2021 and obtaining her VTCT NVQ Level 2 Beauty Therapy and Level 3 Massage Therapy. Throughout her time at Highlands college, she attended multiple work experience placements at salons and spas around the island. Since joining the team at The Wellness Centre (Castle Quay) Megan has deepened her knowledge in Massage Therapy by undertaking further training in more advanced massage techniques such as Deep Tissue Massage and Trigger Point Therapy.
Megan's priority while caring for her clients is that they have the best possible experience from the services that she provides. Through open communication and getting to know her client's preferences, she tailors all treatment to the needs of each client. Her favourite part of providing her services are the beneficial results experienced by her clients.
"I love to hear how the client feels after a treatment and to get feedback on how I can make the experience even better for the client next time. I strive to be the best therapist I can be, and to carry out each treatment to the best of my ability" – Megan
Megan is a very outgoing individual who loves social events and being together with her friends and family. She also likes to keep fit and healthy by cycling, swimming, running, and walking, and her favourite pastime is going to the beach with her family and their dog.
---
Henrietta Brice-Smith – Embodied Resilience and Senior Dynamic Yoga Teacher/IYN Yoga Elder
Henrietta has been practicing and teaching yoga for over 20 years. She has recently completed a course in Embodied Resilience, to include Somatic Retuning, a moving practice punctuated by stillness (its purpose to simply become intimate with the body by way of feeling the sensations that are generated by the body). Somatic Intuning, a stillness practice of intimacy and Somatic Attuning, a practice of shared intimacy.
In Dynamic Yoga, Henrietta's teaching is clearly grounded in vinyasakrama (the art of step-by-step instruction) which deeply supports the body within postures and invites each person to journey towards a deeper understanding of the inherent intelligence of their body.
Henrietta runs international retreats and workshops.
"Yoga is about self inquiry and discovering the innate wisdom within. Learn how to feel what is actually happening in your body rather than what you can do. Become intimate with your body by feeling the sensations being generated by your body, especially by refining movement and action to soften the sensations that reveal the vulnerable presence of the joints. In this way your mind learns how to understand, support and respect the intelligence of the body."
For more information about Henrietta, please visit her website or Facebook page.
---
Shefa Hamid – Pilates Instructor
Shefa grew up in England. Having graduated with BA Hons in Business and Financial Services, she worked in finance in City of London. Subsequently, she lived in Sotogrande, Spain for several years before moving to Jersey. Shefa has always been interested in health and fitness and it's her passion for Pilates and thirst for knowledge led her to complete an advanced Diploma in Pilates including specialist training in both pre and post-natal Pilates exercise and Pilates for Common Orthopedic Conditions. She offers bespoke Pilates service and her core value is to be able to teach clients to maintain long term good health by strengthening weaker muscles and preventing any potential injuries. Allowing her clients to enjoy effective muscular performance whether at home, work or playing sports. Shefa has a holistic teaching approach accompanied with her passion for helping clients build wellness of the body and mind by harmoniously coordinating breathing, balance and alignment.
Her interests and hobbies includes; food – both cooking and eating!, chilling with family and friends, traveling and one of her favourite destination is Mauritius. She also, enjoys taking part in various charity events and in 2017 completed London Marathon Moon Walk in aid of breast cancer.
"I feel truly blessed to be able to teach my passion" - Shefa Hamid
---
Thank you for visiting our site. We look forward to meeting you in person and hope to help you become an even better you! Contact our office and schedule an appointment today!