Physiotherapy in Jersey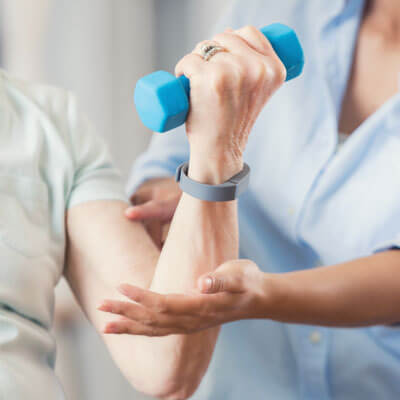 Physiotherapy helps to restore function and movement in patients affected by injury, illness, or disability of a specific area or of the body as a whole. Physiotherapists are specially trained allied health care professionals that provide in-depth examinations, education & advice, rehabilitation exercises & manual therapy, all tailored to each individual's need. Physiotherapy can be helpful in the recovery of physical functions for people of all ages with a wide range of health conditions such as:
Musculoskeletal (bones, joints, and soft tissue)
Neurological (brain or nervous system)
Cardiovascular (heart and circulation)
Respiratory (lungs and breathing)
Physiotherapists directly involve patients in their own care, and by taking a holistic approach help them to regain or maintain physical activity, and reduce the risk of injury or illness in the future.
Education and Advice
One of the main aspects of physiotherapy involves looking at the body as a whole, rather than focusing on the individual factors of an injury. Therefore, giving specific advice in relation to an injury and general advice about ways to improve one's overall well-being are both important parts of the treatment.
At The Wellness Centre (Castle Quay), we use one of the world's best-regarded, accurate and advanced software (Complete Anatomy Software & Physiotec) to help our patients visualize and fully understand their condition, their path to recovery and to provide home exercise programs that communicate exercises with stunning videos and step-by-step instructions.
Movement, Tailored Exercises, and Physical Activity Advice
Physiotherapists usually recommend movement and exercise to help eliminate pain and improve mobility and function. This may include:
General Excercise: Excercises that involve moving the whole body, such as walking, swimming, cycling, Pilates or Yoga classes.
Rehabilitation Exercises:  Excercises designed to improve movement & strength in a specific part of the body.
Education: Advice and exercises to help increase or maintain general physical activity, including advice on the importance of keeping active, and how to be active in a safe and effective way.
Your physiotherapist may also recommend exercises that can be done on a continual basis to help manage pain in the long term or to reduce the risk of re-injury/relapse of a condition. We use clinically proven exercise and activity techniques such as kinetic control training, movement therapy training, and TheraBand training to help our patients achieve the best possible outcome of their treatment program.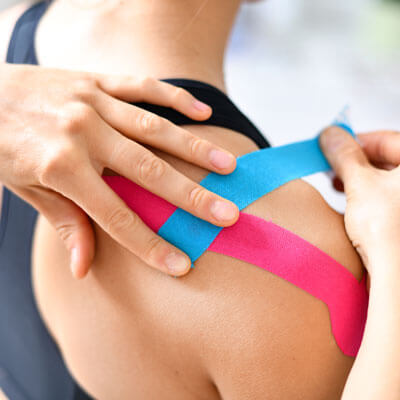 Manual Therapy
Physiotherapists provide various hands-on treatments to help relieve pain and stiffness and to encourage better movement of the body. Many physiotherapists also use treatment techniques such as taping and ultrasound therapy. Physiotherapy manual techniques at The Wellness Centre (Castle Quay) will include treatments such as hypervolt percussion Therapy, floss band therapy, and McConnell Institute taping technique amongst many others. These manual therapy techniques can be used on their own or in combination to help:
Relieve pain and stiffness
Improve blood circulation
Improve lymphatic drainage and reduced fluid retention
Improve the movement of different parts of the body
Promote relaxation
Waiting lists for public physiotherapy can often be very long, and as such many patients choose to seek Private Care instead. In most cases, you can approach a private physiotherapist directly without a referral from your doctor. When choosing a private physiotherapist is it important to make sure that he or she is registered with the Health & Care Professions Council (HCPC) and is a fully qualified member of a recognized professional body, such as the Chartered Society of Physiotherapy (CSP).
Book Today
Take that first step toward better health. Call 01534 633060 today to schedule an appointment!

Physiotherapy Jersey, St Helier | 01534 633060