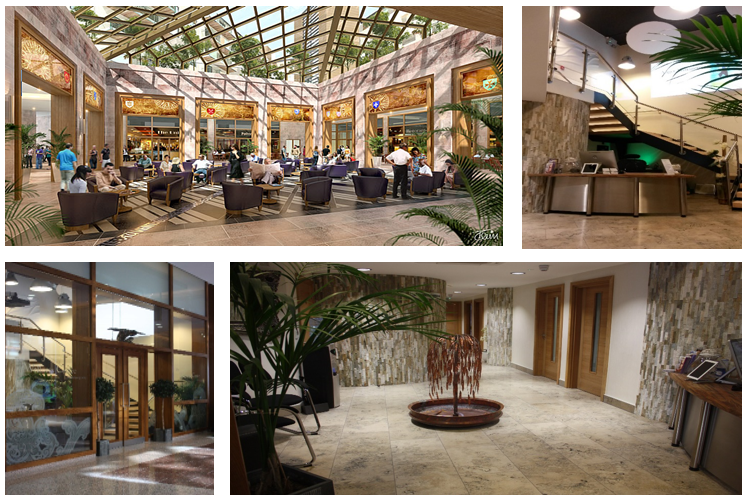 All Inclusive Luxury Office / Consultation / Treatment Room Rentals
For many the normal operating costs of a business can be exhaustive and therefore prohibitive. Our Inclusive Rates & Flexible Terms simplifies everything and provides an affordable option for professionals looking to make that first step and/or expand their existing business. Why not join a dynamic team of professionals and occupy room/s within a beautifully designed & modern premises inside the luxurious Castle Quay development @ the waterfront.
The premises are ideally suited for health professionals (G.P., Consultants, Private Nurse, Talking Therapist, Counsellor/Relationship Therapist, Life Coach, Physiotherapist, Chiropodists, Alternative/Complementary Therapists etc.) but can also comfortably be used as office space. N.B. Unfortunately we cannot accept applications from Chiropractors, Massage Therapists & Beauty Therapists as these services are already offered at the centre.

Office/ Treatment / Consultation Rooms
Area: circa 174 ft2 (16m2) each.
Decor: Modern furniture (Hardwood desk, office chairs/sofa, sideboard with modern glass vessel sink, etc.).
Heating/Cooling: Slim style Thermostatic radiator + Clean Air Circulation (Extraction + Heat Recovery System).
Music: SONOS wireless music system (customisable music + play-listing).
Telephony: 2 x Cat 5 ports in each room (supports telephone + Broadband/LAN network).
WiFi - Public access.
General Information
Floor Plan: Please see below.
Parking: Onsite underground parking (Waterfront Carpark).
Security: Fully fitted Fire alarm + CCTV Cameras + continuous monitoring (Castle Quay).
Ventilation: Clean Air Circulation (Extraction + Heat Recovery System) + Air Conditioning (Corridors + Lecture Room).
Website: Featured page/info on professionally managed website (articles, newsletters, blogs, etc.).
Social Media: Feature on managed Facebook pages.
Network: LAN network (Cat 5) = Hard wired Fibre Broadband + Wireless access.
Rental Options
All Inclusive terms (£600 – £1,000 / month)
Exclusive or Shared use + Multi-Room Occupancy available.
Flexible terms i.e. (Flexible contracts (short to medium term) + variable deposit and notice period).
Includes the following
Advertising & Marketing (General advertising (Facebook, Radio, etc.), Featured website pages/s, etc.)
Cleaning (Common Areas)
Events/Lecture Room (Available FREE OF CHARGE for occasional use)
Internet Access (Wireless + LAN Network)
Rates (Foncier + Occupier)
Reception Services (Basic) i.e. (Hostess Service + Coffee/Water)
Service Charge (Management Fees + Sinking Fund)
Team Room (Kitchen, Fridge, + Hotdesk)
Utilities (Air-Con/Heat/Ventilation, Light & Water)

Optional Supplements
Reception Services (Full) – £250 – £500 / month *per room* (Monday – Saturday (9a.m. – 7p.m.))
Check-In: Friendly & professional check-in / electronic diary management.
E-Mail Service: Regular monitoring of e-mail messaging + automated appointment reminder system.
Hostess Service: Coffee & Water service.
Invoicing: Monthly Aged debt analysis + electronic invoicing.
Payment Service: Cash, Credit Card, Cheques collected.
Telephony
Independent phone + internet connection.
Additional Information
Chart Room: Huge waiting area within the beautifully designed and tranquil 'Chart Room' within Millais House (Castle Quay).
Parking: Large, secure underground parking area onsite.
Team Room: Modern office/kitchen area with convection oven/microwave + fridge + Hot-desk/computer.
Waiting Area: Stunning Reception/Waiting area (vaulted ceiling, feature glass & steel staircase, copper tree fountain, HD Projector (PowerPoint + living adverts), coffee + water station, SONOS wireless music system, etc.).
Washrooms: Beautifully decorated Washrooms x 2 (Disabled (downstairs) + Non-Disabled (Mezzanine)).
For more information and to arrange a viewing, please email Adrian & Andrea Luckhurst at admin@the-wellness-centre.com.