We are quickly approaching the Festive Season and finding the Perfect presents for our loved ones can be a difficult task… but rest assured that at The Wellness Centre (Castle Quay) we have something suitable for everyone, and every budget. From float S P A Hydrotherapy (ultimate in relaxation) to Chiropractic & Massage Therapy (Physical Rehabilitation), the choice is yours.
---
f l o a t  S P A Hydrotherapy
Special Offer – Only £ 30 (Normally £ 60/60 min)

Experience one of the most physically and mentally relaxing therapy on earth..! Imagine floating weightless and effortlessly on the surface of warm water (saturated with over 500kg of Epsom Salts) and encapsulated in harmonic sounds & colours created by underwater speakers and LED lights. A single floatation session yields immediate benefits. The detrimental effects of stress on the body are dissipated: tense muscles relax, and the mind is able to let go and relax into a state of deep calm. These effects can last for days or weeks, and successive floatation sessions can have profound cumulative effects.
Studies show that a one-hour f l o a t  S P A session equates to 6 hours deep sleep.
Try this wonderful experience and make it a regular part of a healthier lifestyle to combat stress, fatigue, aches & pains. You will wonder how you ever lived without it..! (T's & C's apply)
For more information, please watch this short video.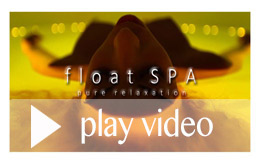 ---
Gift Vouchers
Say 'I like you' or even 'I love you' to your friends, family and loved ones this Christmas with a thoughtful 'Gift of Wellbeing'. With a Gift Voucher from The Wellness Centre (Castle Quay) you can be sure to have made the right choice. For the ultimate present, why not design your own unique wellness package by combining any service offered at the centre…
Our Gift Vouchers can be purchased by visiting The Wellness Centre (Castle Quay), or by calling our Reception Team on 633060.