Physiotherapy in Jersey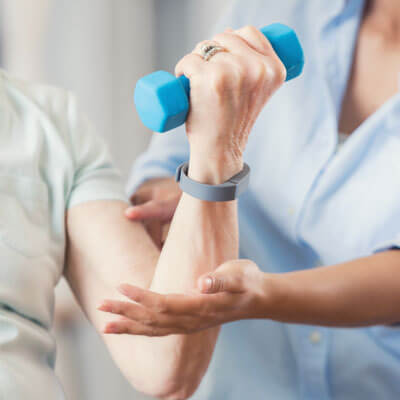 Physiotherapy helps to restore function and movement in patients affected by injury, illness, or disability of a specific area or of the body as a whole. Physiotherapists are specially trained allied health care professionals that provide in-depth examinations, education & advice, rehabilitation exercises & manual therapy, all tailored to each individual's need. At The Wellness Centre (Castle Quay), our physiotherapists are helpful in the recovery of physical functions for people of all ages with a wide range of health conditions such as:
Musculoskeletal (bones, joints, and soft tissue)
Neurological (brain or nervous system)
Physiotherapists directly involve patients in their own care, and by taking a holistic approach help them to regain or maintain physical activity, and reduce the risk of injury or illness in the future.
Education and Advice
One of the main aspects of physiotherapy involves looking at the body as a whole, rather than focusing on the individual factors of an injury. Therefore, giving specific advice in relation to an injury and general advice about ways to improve one's overall well-being are both important parts of the treatment.
At The Wellness Centre (Castle Quay), we use one of the world's best-regarded, accurate and advanced software (Complete Anatomy Software & Physiotec) to help our patients visualize and fully understand their condition, their path to recovery and to provide home exercise programs that communicate exercises with stunning videos and step-by-step instructions.
Movement, Tailored Exercises, and Physical Activity Advice
Physiotherapists usually recommend movement and exercise to help eliminate pain and improve mobility and function. This may include:
General Excercise: Excercises that involve moving the whole body, such as walking, swimming, cycling, Pilates or Yoga classes.
Rehabilitation Exercises:  Excercises designed to improve movement & strength in a specific part of the body.
Education: Advice and exercises to help increase or maintain general physical activity, including advice on the importance of keeping active, and how to be active in a safe and effective way.
Your physiotherapist may also recommend exercises that can be done on a continual basis to help manage pain in the long term or to reduce the risk of re-injury/relapse of a condition. We use clinically proven exercise and activity techniques such as kinetic control training, movement therapy training, and TheraBand training to help our patients achieve the best possible outcome of their treatment program.
Contact The Wellness Centre (Castle Quay)
We'd love to hear from you! Call us 01534 633060

CONTACT
"VBoo
The Wellness Centre (Castle Quay) Millais House, Rue De L'etau St. Helier, JSY JE2 3WF
Phone: 01534 633060
Fax: 01534 633058

Practice Hours

FIND US
We are located at the St. Helier Waterfront, in the Millais House (Castle Quay Development) just opposite the Waterfront Gardens. Please enter the building from one of the side entrances behind either 'Coopers Coffee shop' or 'Organic Kids Nursery'. Our Main Entrance and Reception is located within the Chart Room of the Millais House.
Parking
There are several Car Parks in the surrounding area, such as the underground Car Park (beneath the Waterfront Gardens), Esplanade Car Park and Elizabeth Terminal Car Park (Harbour).