Yoga & Kinetic Therapy
…with Henrietta Brice-Smith
Yoga is beneficial for the health in many ways which modern science is only just beginning to understand. Even though it has been applied with therapeutic intention for over a thousand years yoga as a therapy has only recently emerged as a discipline in itself.
'Kinetic Therapy' uses a combination of Dynamic Yoga, NLP Kinesiology (a non-invasive method of natural healthcare based on the study of the mechanics of body movements), Breathing and Relaxation Techniques.
Kinetic Therapy is suitable for those who feel that they have a specific issue, be it physical, physiological, or emotional with each session being personalised to suit an individual's needs. Teaching with warmth and sensitivity, Henrietta offers a safe space for people to rediscover their body's innate wisdom.
Throughout her long teaching career, Henrietta has accumulated extensive experience teaching people suffering from a variety of ailments and conditions such as musculo-skeletal problems, cardiovascular and respiratory disorders and neurological and metabolic disorders. Henrietta has also been able to enhance the quality of life for individuals suffering with cancer, stress and depression.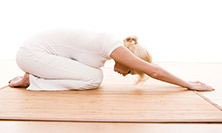 In order to ensure the best guidance and care for her clients, Henrietta continuously strives to expand her knowledge of Yoga and Kinetic Therapy and their connection to the function of the body. Currently Henrietta is deepening her knowledge of Anatomy, Physiology and Pathology under the guidance of a respected surgeon from Berlin. She is also studying NLP Kinesiology with an experienced teacher from Australia.
Yoga and Kinetic Therapy sessions are taught on a one-to-one basis, and are always tailored to suit the individuals' needs. The one to one Kinetic Therapy sessions always begin with a consultation, followed by a programme of therapy to include a combination of breathing work, yoga sequencing, relaxation techniques, Kinesiology, and advice appropriate to the individual.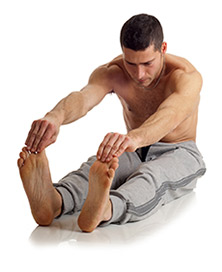 Subsequent Yoga sessions then focus around Dynamic Yoga core techniques which is is a very safe technique to practice. Rather than being about striving for far out, physical postures it focuses on applying universal principles in specific actions. Spoken instruction is gentle, supportive and precise.
Henrietta also offers group classes dedicated to helping those with Lower Back Pain, Neck Pain and Stress Release, as well as teaching Pregnancy Yoga (pre- and post-natal).
Call us today on 633060 to book your space!