Spinal Health Checks
What is a Chiropractic Spinal Health Check?
A Spinal Health Check is a great opportunity to informally discuss your problem or health concern with one of our Doctors of Chiropractic, and to have a brief physical examination including a MyoVision sEMG Scan and a Posture Screen before embarking on a more detailed assessment and treatment program if needed.
The objective of the Spinal Health Check is to ascertain whether the client has any spinal or other neuro-musculo-skeletal issues, which may well be helped through Chiropractic care. In the event that Chiropractic can help, details are given about booking in for a full new patient appointment at the clinic which will allow for a much more thorough consultation and examination to be conducted, followed by a full detailed report of findings. With their experience and qualifications, our Chiropractors will give you an honest opinion and in some circumstances may recommend referral to another healthcare professional for further investigations or assessment.
A Spinal Heath Check can detect early indicators such as poor posture, decreased range of motion, muscle weakness and spinal dysfunction, using a non-invasive painless screening assessment.
Who is it for?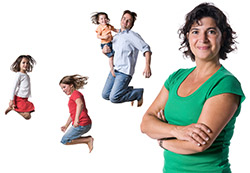 We offer Spinal Health Checks for anyone in the general public that would like reliable, informal advice from a healthcare professional. Our Chiropactic services are suitable for all ages. Chiropractic has been shown to be effective on new born babies right the way through to old age. Correcting problems in young children is usually far quicker than leaving problems to develop until adulthood.
A Spinal Health Check will take no longer than 30 minutes and with our flexible opening hours we can offer appointments early mornings, evenings and Saturdays.
So, if you have any pains, niggles, or any other concerns with regard to your health, or that of a friend or family member, call the Jersey Chiropractic Centre  on 633060 to book your Spinal Health Check.
For more information about the MyoVision sEMG Scan and a Posture Screen please click here.