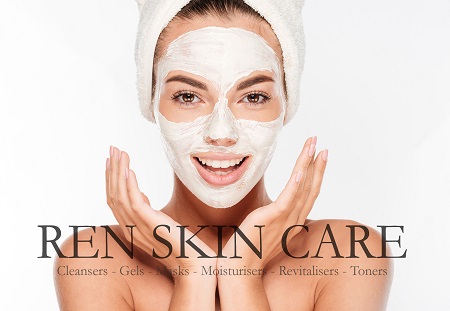 The Wellness Centre (Castle Quay) are offering all new and existing clients the chance to experience the amazing REN Renew and REN Radiance Facials (75 min) for only £ 49.00 (normally £ 85.00)!
REN is a Clean Skincare Brand: a smarter kind of skincare which delivers high performance visible results whilst always being on your skin's side. Scrupulously avoiding any skin unfriendly or toxic ingredients. With just the right amount of naturally derived hi-tech bio-actives that help the skin help itself. Served in products that are gorgeously pleasurable to use.
REN's Philosophy can be summed up in three words… Performance, Purity & Pleasure. Utilizing specialised treatment techniques such as Japanese Acupressure, Shiatsu Techniques and Swedish Massage, these treatments will not only leave your skin radiant and transformed, but your body and mind thoroughly relaxed.
Treat yourself or someone special to experience the fantastic results that REN has to offer. You will wonder how you ever managed without it!
At The Wellness Centre (Castle Quay) we believe that professional treatments shouldn't just be good – they should be great..! And, to help support your glowing complex at home, you can purchase the full REN Product Range at The Wellness Centre (Castle Quay).
Live Clean.
Bare all.
That has always been the
REN philosophy.
As much for life as it is for skincare. Nothing unnecessary – just the pure and pleasurable.
Clean, skin compatible ingredients that work.
Call us today on 633060 to book your

REN

Experience, or click Here.
Please quote 'REN FB1′ when making your purchase/booking. One REN treatment per person, but multiple treatments may be purchased and distributed as Gift Vouchers. Offer expires November 30th 2018.