With the start of a new year, we are really excited to introduce our Clients and Patients to two new Team Members at The Wellness Centre (Castle Quay)!
Hadley-James Brown – Doctor of Chiropractic
Hadley was born in New Jersey (USA) and grew up in Spain before moving to the UK. Here he studied at both the Anglo-European College of Chiropractic and at the Welsh Institute of Chiropractic, where he earned a Masters of Chiropractic and graduating with a distinction.
Having a passion for playing sport he has seen first-hand the benefits of Chiropractic Care in relieving symptoms but also maintaining optimum function. In 2016 he was appointed as the on-pitch healthcare professional for a Welsh rugby union side, and has also had the opportunity to treat professional football players. These placements entailed working within professional healthcare teams, and having to complete a myriad of courses to acquire the skills to deal with acute sports trauma.
Having most recently practiced in the South east of England and London, Hadley has also become experienced in dealing with musculoskeletal complaints that arise from working within a corporate environment.
In his spare time, he enjoys playing football and watching live sports.
Hadley will be joining us from February 2019, and will be taking over the care of Tommaso's patients, whom sadly will be leaving us to move back to Italy.
During the month of February, Hadley is offering Spinal Health Checks at a reduced price of only £ 20 for all new and current patients!
To book an appointment with Hadley please click Here.
Ciara Ahern – Sports Therapist
Ciara has more than 10 years experience in Remedial Sports Massage after graduating with a first class honours diploma in Advanced Sports and Remedial Massage from St Martin's College in Cork. As well as treating clients, Ciara shares her depth of knowledge by teaching a Level 3 Certificate Courses in "Sports Massage Therapy" at the Professional Fitness Academy (previously at Highlands College). Ciara is also qualified in the use of ultra-sound.
Being involved in athletics for many years and working with 'Jersey 1sts' rugby team into the Championship, Ciara has gained extensive practical knowledge and experience in dealing with sports injuries. Ciara has also worked with clients from the finance sector (having worked in that area for over a decade) and is focused on ensuring that each client's care program is matched to each individual's needs.
Ciara's ethos is to treat everyone, and their injuries as individuals, and to ensure that  'one size fits all' is NOT part of the treatment process.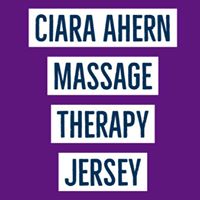 To find our more about Ciara and to book an appointment please click Here.
For a chance to win some fantastic FREE Massage treatments with Ciara, please visit her on her Facebook Page.