Aromatherapy Massage
Stimulate your senses to boost your body and motivate the mind.

Using essential oils from plants, flowers, seeds and leaves, aromatherapy massage benefits from two absorption points – the skin and the nose, which means it has double the effect!
With over 400 essential oils to choose from, each oil is specifically formulated to combat individual complaints, meaning you'll always end up with your very own bespoke treatment. Each essential oil has its own specific health benefit, so if you do have a particular ailment or worry, your therapist should be able to advise you as to which oil will work best with your body to achieve the desired effect. Aromatherapy massage is a powerful way to help you relax and unwind at the end of a long and tiring day.
Defined as an Alternative Therapy, aromatherapy massage combines the use of essential oils and therapeutic massage. Our therapist will start with asking you a series of questions relating to your health, lifestyle and medical history. From this, she will be able to select which essential oil is most suited to you. Once chosen, the essential oil must then be blended together with a carrier oil to create a mixture that can be applied directly onto the skin; essential oils alone will irritate the skin.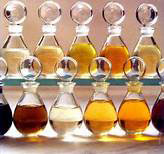 As your massage begins, the oils start to work immediately. They quickly penetrate the skin and become absorbed into the bloodstream, loosening muscles and helping to release any suppressed tension you have. As the essences evaporate, you'll also begin to inhale the aroma. Messages sent to your brain from your nose will encouraging your mind to work together with your body, sending you into a very relaxed state, both emotionally and physically.
Please call us on 633060 or Click Here to make an Appointment.